"When you get tech minded people in the same room together, they start to help each other's businesses grow faster and accelerate."

Brad Rowland, Partner and GM

Emergent Campus, at the Historic Florence High School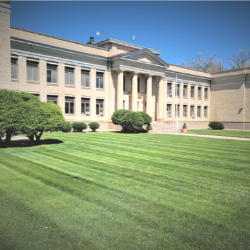 For nearly 100 years, the building at 215 Maple Avenue, Florence, Colorado was Florence High School, home of the Huskies.
Today, this stately, classical era building is home to a different community of teachers, learners, builders, and dreamers. It is once again a place where people come together to create something bigger than themselves. Emergent Campus now lives at this address.
Emergent Campus is the new, larger home FEDC's TechStart project, which began as a group of Fremont County tech professionals and enthusiasts who came together to support and grow tech opportunities in the Arkansas Valley.
Brad Rowland is a Silicon Valley transplant who helped create TechStart, and he leads and speaks for Emergent Campus. "We started by renting a building, 425 Main Street, Canon City,  and getting a high speed fiber connection. Within about six months, we had that building filled. Every time a business started to grow, we'd have no place to move them into."
TechStart solved its stymied growth problem by moving into the vacant Florence High School building. It was inside these walls that Emergent Campus was born.
Emergent Campus Incubates Business

Something exciting is happening in every square inch of the building. Rooms that once supported English and Math classes now support business creation, development, and innovation. The old gym's ceiling is high enough to accommodate drone flying, so drones fly around the gym. The wrestling locker room is now a plastic prototyping room. The Boys and Girls Club occupies some classrooms, and custom furniture design and construction has replaced art in the Art Room. In the building behind the school, plastic waste is being turned into construction trim materials and, down the hall, custom jump ropes are being assembled. An old science room is now the research and development space for a device that detects and diagnoses nighttime teeth grinding. Turn a corner to discover a counseling center for autistic children. Painted portraits line the wall of another long-ago classroom. Activity is everywhere.
Rowland and his partners work for a world where rural places are no longer technology deserts and they plan to use Emergent Campus as a scalable model for creating opportunities outside of the stereotypical urban tech zones. "Twenty percent of the labor force could be activated as a strategic asset for the country. All rural communities need to have is basic infrastructure: internet, training programs, basic levels of gear. Technological innovation doesn't have to happen in big cities. It just has to happen," said Rowland.
Emergent Campus Builds Partnerships
Second-61, a tech company that conducts IT advocacy for business, started and grew in the initial TechStart building. The company's growth forced it off of Main Street and into the remodeled library in Emergent Campus. Pax8, a large tech company headquartered in Denver that manages cloud-based products, has joined Second61 in the former library and grows alongside the space's first tenant. They employ 700 people and recently received a 19 million dollar incentive from the State of Colorado to create 1800 more jobs in the state. Most of these jobs will stay in the Denver Metro Area, but some will be in Fremont County, at Emergent Campus. "Pax8 has wanted for a long time to start to reach out to rural communities and find a community to partner with. Our goal here is to provide the space and resources to make this happen. We will probably see 40 people working in this space," said Rowland and he showcases the company's developing infrastructure throughout the library. The Pax 8 employees who will work at Emergent Campus are not transplanted from Denver. Instead, they are Fremont County locals who have the skills and aptitude to work for a growing urban tech company. So far, Pax 8 has hired twelve Fremont County residents for tech positions.
"So our goal is to find people who live in the area and have the profiles that match Pax 8 positions. We can build a workforce from here and have a reliable pipeline."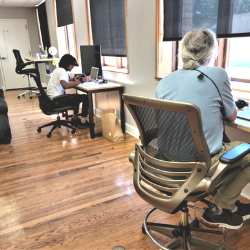 Emergent Campus Educates Students
Rowland is especially proud of Emergent Campus's educational outreach. In 2018, Cañon City High School received a PTech grant from The State of Colorado. This grant promotes school partnerships with businesses and community colleges with the goal of creating STEM and technology opportunities. With this generous grant, Cañon City High School works in cooperation with Pueblo Community College and the many Emergent Campus businesses to teach students about tech careers. This award is traditionally awarded to urban schools, but Cañon City High School's partnership is the first rural cooperative effort to receive the grant.
"We had 49 students enrolled in it right before COVID and it continues to expand. In the beginning, it was just 'tech tech.' We're now including auto tech and fire tech. We're expanding into so many different pathways. Tech should never just be about computers. Tech is everywhere." said Rowland.
Emergent Campus is Fremont County
Fremont County is not a stereotypical technology hub, but a group of committed people who can see beyond the rural landscape are working to bring opportunities to the region that were unfathomable twenty years ago. As more entrepreneurs, startups, mentors, and business leaders find Emergent Campus's resources and opportunities, Fremont County will continue to grow into a rich and vibrant tech and business-oriented spot on the Colorado Map.
The Hive is thrilled to recommend Emergent Campus to anyone looking to start, grow, or investigate business opportunities. A quick wander through the halls is all you will need to feel the excitement and energy Emergent Campus is generating at 215 Maple Avenue in Florence, Colorado.