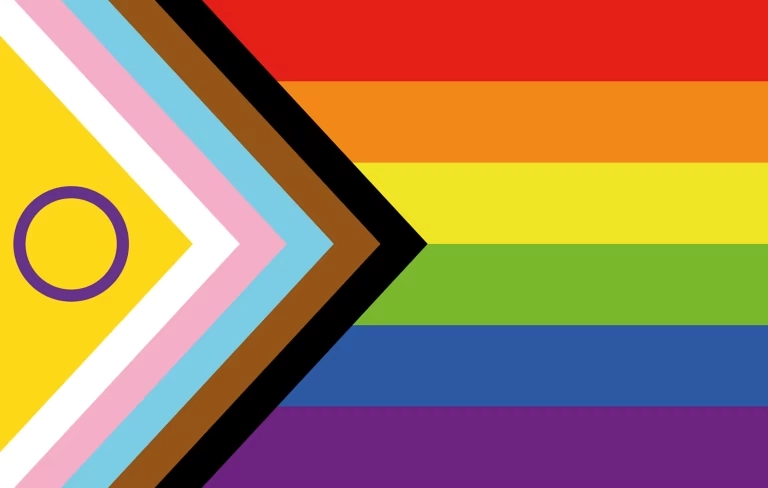 At The Hive, we deeply value the rich tapestry of experiences and backgrounds that each individual brings. Our commitment is to provide a welcoming space where everyone feels at ease, respected, and part of our community. We understand the unique blend of perspectives in our rural Colorado setting and aim to bridge understanding and foster connections.
In our effort to reflect the diverse voices within and beyond our community, we've chosen to display the New Progress Pride Flag on our website. This flag, with its evolving design, symbolizes a broader representation of experiences and identities. It's a nod to the many stories that make up our community and a gentle reminder of the shared values that unite us.
The flag's design, initiated by Daniel Quasar and later refined by Valentino Vecchietti, encompasses various colors and symbols. It's a representation of unity, understanding, and the shared hope for a future where everyone feels acknowledged.
At The Hive, our doors are open to all. We strive to be a space where conversations are sparked, understanding is deepened, and community ties are strengthened. We respect the diverse views of our patrons and believe that it's in the blending of these perspectives that we find our collective strength. Join us in our endeavor to create a harmonious environment that resonates with the heart of rural Colorado.
Nondiscrimination Policy
The Hive does not discriminate on the basis of race, creed, color, ethnicity, national origin, citizenship or documentation status, religion, language, sex, sexual orientation, gender identity, gender expression, age, height, weight, physical or mental ability, veteran status, military obligations, socioeconomic status, marital status, genetic information, political views, or belief systems.