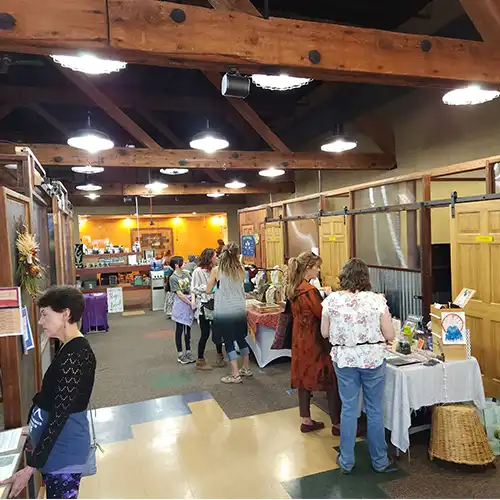 During a recent Saturday, community members gathered at The Hive for a day of healing, inspiration, and shopping. The Mystic Market Holistic and Metaphysical Fair featured almost a dozen local vendors offering a wide range of metaphysical services and products, including tarot readings, energy healing, and aura cleansing, and more. Elizabeth White-Ortega, founder of Energy Healing with Elizabeth, and co-organizer of the fair, wanted to create a space where people could come together to learn about and experience a variety of spiritual and metaphysical practices.
"Metaphysical fairs are a great place for people to learn about and experience new spiritual practices, as well as to connect with others who share their interests," said White-Ortega. "These fairs can be a fun and informative way to explore one's spirituality and to find new ways to connect with oneself and the world around us."
Attendees of the fair were drawn to a variety of different things. Some were looking for guidance from a psychic or medium, while others were interested in learning more about different healing modalities while others were simply curious to browse the vendors' wares and see what was new. Regardless of their reason for attending, they left feeling refreshed, invigorated and a sense of peace from their experiences at the fair.
"Metaphysical fairs can be a great place to explore your own spirituality and learn about different ways to connect with your inner self. They can also be a fun and supportive place to meet other people who share your interests," added White-Ortega.
The fair was not only enjoyable for the attendees but also for the vendors, educators and practitioners, who were able to make new connections with potential customers. Certified Happiness Trainer and Coach Chris Lindsay said that she was very happy with the turnout at the fair.
"The fair provided a supportive environment where people felt comfortable sharing their experiences and feelings without judgment. I had a lot of great conversations with people who were genuinely interested in finding happiness and improving their lives," said Lindsay. "Truth is, happiness is an inside job. There is no shortage of things in our external world that can affect our happiness."
Overall, the inaugural metaphysical fair was a positive experience for everyone involved. It provided a space for people to come together and explore their spirituality, connect with others, and receive healing and guidance. If you're interested in learning more about the metaphysical or connecting with others in this space, a spring Mystic Market Holistic and Metaphysical Fair is already in the works!