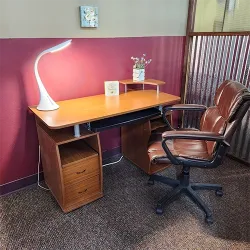 Flexibility for people in the workplace has been rising, and so has the need to find a spot outside of a traditional office to work in. The Hive in Downtown Cañon City, Colorado recognizes this, and has created a space where people of many different backgrounds and careers can benefit from.
Flexible working has been on the rise for many years, and since more and more people do not need to report to an office on the daily, options for non-traditional spaces have become more relevant. Many people who may have found themselves working from home during the pandemic, have realized that there is no longer a need to pay for a large office building.
Co-working spaces, like those at The Hive, offer a great solution to someone who needs the space because they do not have enough room for a home office. That is why we have affordable spaces to rent monthly. Our small offices are perfect for one person, and offers privacy and tranquility. The benefits of The Hive do not stop there.
Get A Day Pass
Day passes are also available to help those in need of a space for only a day at a time. The need for high-speed internet has become increasingly important for every day work. Most jobs require the internet every single day.
Purchasing a day pass offers a place for you to camp out for the day, whether you are passing through town, need a day away from your home office, or just want a space to spark some creativity.
Hybrid working has also become very popular, as some people have realized that they do not want to work in an office every day, but that they do not want to work exclusively from home either. Because of this, it is not financially feasible for them to rent out a large area for employees to work.
Co-working spaces work wonders for a company who only has a few hybrid workers. It would make more sense to rent a small office, which they can take turns using throughout the week.
Connect, Collaborate, Create
Other reasons for the rise in shared work spaces is because of the networking that is available. It is a great way to meet other people and share your expertise with each other. This also brings great socialization that you may not be able to get from home. Connection truly matters in this ever changing world.
The rise of co-working spaces has undeniably transformed the way we work and collaborate. Shared work spaces have become increasingly important in today's fast-paced and interconnected world. By providing a flexible and dynamic environment, The Hive in Cañon City fosters creativity, innovation, and networking opportunities.
We offer a solution to the isolation of remote work and the limitations of traditional office settings. Moreover, co-working spaces promote a sense of community and support, allowing individuals and businesses to thrive. As the demand for flexible work arrangements continues to grow, co-working spaces will undoubtedly play a crucial role in shaping the future of work.