"Cañon City has been building trails rapidly over the past few years and at last count, they now boast 139 miles of singletrack within 25 miles of downtown–and they aren't done yet."

Greg Heil, Singetracks: "10 Best US Mountain Bike Towns with the Lowest Cost of Living"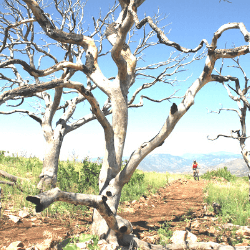 Amazing outdoor recreation opportunities are the "not-so-secret" secret that abound in the canyons, rivers, foothills, and waters that surround Cañon City. There are few outdoor enthusiasts who could come to Cañon and not find something to do. Those of us who grew up here knew how to find places in the river for great tubing, paths through the mountains for our bikes, and hills, rocks, and sheer cliffs that lent themselves to climbing.
What we didn't have was an organized  system of trails, mapped with precision and maintained with care.  We didn't have an organization dedicated to building trails, preserving the environment, and reaching out to the community.  We didn't have this, until FAR came along.
FAR (Fremont Adventure Recreation) began ten years ago when three friends combined to help run the runBlossom race. Today, FAR builds and maintains trails throughout Fremont County, sponsors outdoor activities, and works in the community to promote environmental awareness, outdoor recreation and events. The organization, according to its mission statement, is "enhancing the quality of life for the citizens of the Royal Gorge Region through the creation and celebration of human powered outdoor recreation adventures."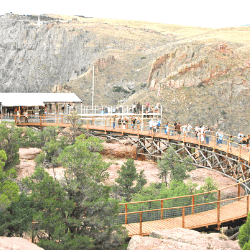 Ashlee Sack, FAR Coordinator, began working for the organization in 2015 and is most proud of the relationships FAR has built with residents of and visitors to Fremont County  "As our community grows, we feel that it's important for people to have a place where they can come together in positive ways. We aren't just building trails, we're building a community of people who enjoy health and mental benefits from recreation."
What's New in Cañon City's Outdoor Recreation Scene

To add to the impressive sixty-one miles of singletrack trails that traverse Fremont County, FAR is working to develop more trails, a bike skills park, and a calendar full of events designed for individuals and families of all skill levels. According to Sack,"Even as COVID halted our in-person events, we kept plugging away at building and expanding recreation amenities.
Outdoor Recreation Supports the Community
There are so many resources that Cañon City has to share with the community- from life-long residents to first-time visitors.  FAR works to ensure that these resources are maintained and promoted so that more people can come into the outdoors to come together for exercise, recreation, and conservation.  Outdoor recreation opportunities benefit everyone.
"Creating an outdoor recreation culture and infrastructure is such a symbiotic relationship: the support that businesses show us directly benefits them as people begin to explore, play, eat, shop, visit, and stay here.  We love seeing more people get out and enjoy trails, and we are similarly pleased to see our local businesses thrive," said Sack.