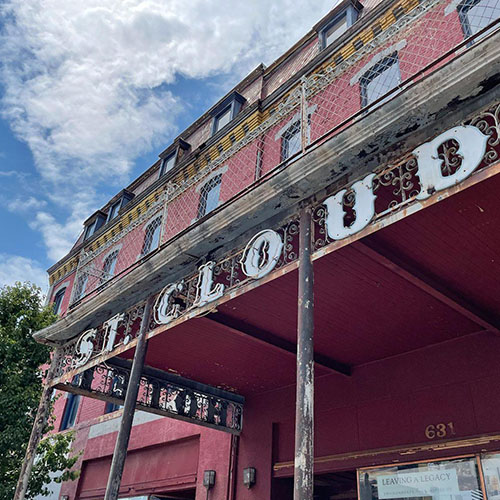 In Cañon City, Colorado, the Hotel St. Cloud sits majestically on its lonely corner at 7th and Main, a beautiful Victorian building that was once dismantled and then lovingly transported, brick by brick, in horse-drawn wagons, and on short-gauge railroad train cars from its original home in Silver Cliff, Colorado to its current address.
The hotel has had four names and too many owners to count.  It has housed the ticketing office for a local airline, a bus terminal, and the headquarters for the local chapter of the Ku Klux Klan.  In the silent film era, it was home to The Chicago Film Studio, which filmed the escape of visitors and employees when the building caught fire. Charles Bronson, Tom Mix, and Burt Lancaster have all stayed in its rooms.  It has stood for 137 years on Main Street and has watched Cañon City become what it is today.
 

In Cañon City, you have world-class activities all within 10 miles.  It's so rare to have this many things to do so close. The Royal Gorge, river rafting, world-class fishing, The Whitewater Festival. It's all right here.

Stan Bullis, Unbridled President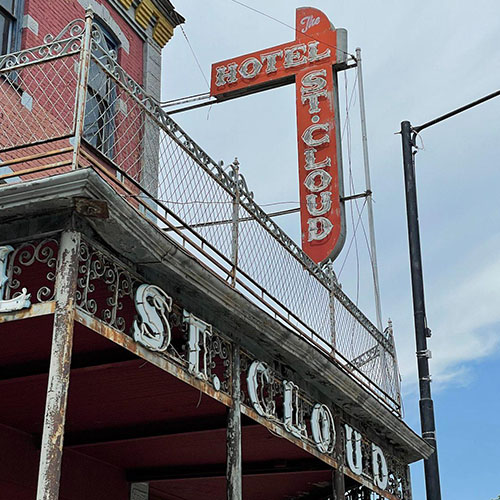 The hotel flourished until the 1960s when rapid changes in ownership coupled with poor management brought it to its financial knees. Since then, many owners have tagged in to try to reposition the hotel to its former greatness.  Some have come close.  Many others have failed. Since 2003, the hotel has been empty and sagging in disrepair.
In July 2018, Unbridled Solutions, a Denver-based events management company, purchased the hotel at auction for $88,000.  The company had just finished renovating its headquarters in the Grant Mansion in Denver and was looking for another historic renovation project. 
Unbridled President, Stan Bullis, who has always been drawn to the idea of restoring a historic hotel, had never been to Cañon City. Yet, his interest was piqued when he discovered the forgotten Main Street building that was soon to be auctioned, again.
"I drove down to Cañon, and there's something about this hotel. It's almost like Cañon selected us. We started falling in love with the town and its people. So we bought it."
Unbridled's Philosophy of Business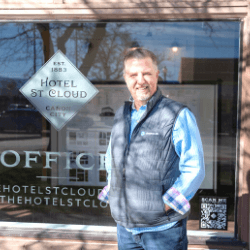 It's clear in talking to Stan that Unbridled is not a typical company focused on profit margins and product production. He talks about the company in metaphysical terms and is keen on conveying that his company does not operate as other multi-million operations do. A cosmic philosophy governs the structure of Unbridled.
"We started by imagining: what if we were a company about who we are and not what we do? Our opportunity would be based on who we hire. So, we built Unbridled on three pillars: a business of generosity, a culture of authenticity, and a collaboration of destinies. We shifted our corporate philosophy into investing in team member identity: find out what people do well and give them more of that."
Unbridled, with Stan at the helm, has decided to marry its generous corporate philosophy to the untapped potential in Cañon City by envisioning and creating an ecosystem of hospitality, entertainment, and access to adventures mere miles from Main Street. 
"In Cañon City, you have world-class activities all within 10 miles.  It's so rare to have this many things to do so close. The Royal Gorge, river rafting, world-class fishing, The Whitewater Festival. It's all right here."
"Hospitality will do well here. Main Street offers some of the most affordable historic buildings in the state and people will stop if they're given a reason. Five million cars drive through this town every year."
For Stan, the confluence of Unbridled's talent for creating hospitality experiences, the company's commitment to "do good by doing well," and the historic preservation opportunities in Cañon City are not merely a coincidence. They believe that everyone has a destiny, even a city, and a county like Fremont County. 
"Fremont County was established by John C. Fremont and his name literally means 'freed man.' We want to partner with that destiny and see every person who wants to invest in a life of freedom by starting a business have a way to get there. Restoring historic buildings is a small part of that."
The Future of the Hotel St. Cloud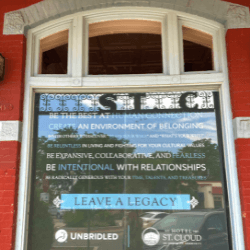 Anyone who walks past the Hotel St Cloud sees two opposing things: optimistic Unbridled signage that describes the future possibilities of a thriving hotel, and the lack of construction activity in and around the building. The messages are incongruous.
Stan explains that Unbridled had arranged the renovation funds and historic conservation plans when COVID hit. Like everything else, the pandemic changed the schedules and financing.  The final blow to the commencement of the project was the sudden increase in the cost of construction materials.
"We have to raise another million dollars. We had it nailed down and we were ready to ink the deal. Then COVID impacted the economy and the price of construction materials spiked. Our contractor repriced the project and it went up a million dollars in a matter of three months. We've been working on this for three years; we have all the plans done and everything's ready to go."
Stan and his team are working to find the million dollars that will move the Hotel St. Cloud project forward, but it's not an easy task.  He believes local investors are the angels who will breathe life back into the hotel and the future of hospitality on Main Street and in Cañon City and Fremont County.
"The money is hard to find with the new macroeconomics, the financial impact of COVID on us personally, and the extra costs associated with restoring historic buildings.​​ But, we're not going anywhere. If there ever was a time for the local community to fight for its home, it seems like investment in the hotel would be really smart."
Cañon City has been Unbridled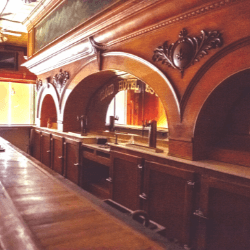 Unbridled's reach into Cañon City moves well beyond the Hotel St. Cloud because the ultimate goal is to create an ecosystem of hospitality. The St. Cloud will anchor everything, but the plans are much grander than a thriving downtown corner hotel.
Fremont Provisions at 507 Main Street is Unbridled's 50 employee, scratch-kitchen restaurant that opened to rave reviews earlier this year. The company also owns the old Post Office and has restored it to be an event space and the new home for the Fremont Center For the Arts. The Cabrini Building is theirs as is 423-425 Main Street, where they have placed their Cañon City Offices. 
"Buying and restoring historic buildings makes space for local entrepreneurs to have a functional and creative space to operate businesses. At Unbridled, we believe that when Main Street businesses flourish, everyone wins."
The tide is changing for this small town on the Arkansas River. The enormous potential of the Hotel St Cloud mirrors Cañon City's tottering on the edge of growth, prosperity, and a bright future. Unbridled has coupled itself to the town's future and is working to secure it.
---
Learn More About Hotel St Cloud
Learn More About Unbridled Holdings