Work Spaces
The Hive | A Coworking Space in Cañon City
The Hive Classroom
AVAILABLE NOW
Learn at The Hive
Our investment in Cañon City includes our strong commitment to education.  As part of this commitment, The Hive is proud to offer well-appointed classroom space for local businesses, non-profit organizations, and current patrons and members. This space is perfect for any group in need of a space to learn, grow, and socialize. Included is a mounted, large screen television with computer-display compatibility, long tables, and chairs to accommodate everyone. It's a comfortable space with access to all of The Hive amenities.
Come and learn at The Hive today.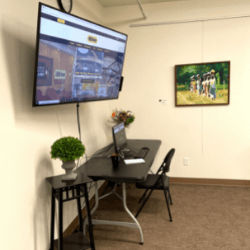 Security
At The Hive, we prioritize security above everything else. This dedicated, secured workspace can be accessed 24 hours/day using the Isonas keyless entry cell phone app.
Internet
Anyone using The Hive's wifi will be impressed with the password protected fiber optic wifi with 500 mbs up and down. There is not faster, more reliable wifi in Cañon City.
Space
The Classroom is spacious and comfortable. We can arrange the tables, chairs, and room amenities to match the needs of your specific group. 
Patron Benefits
We love sharing The Classroom with patrons and want them to spend more time with us. The Hive offers eight hours of access to The Classroom at no additional cost. (More time can be purchased at patron prices).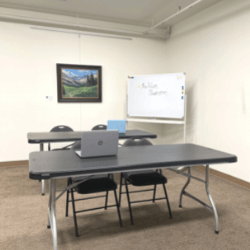 Amenities
At The Hive, we often spend more time outside of our coworking spaces as we do working in them. Patrons enjoy full use of the kitchen facilities: sink, refrigerator, microwave, coffee and tea makers, and a large table to sit and enjoy your lunch. Patrons also benefit from free designated parking in the lot behind the building. We also serve really good coffee and tea throughout the day.
At the Hive, we are at our best when the community gathers here to learn.  We are happy to provide the space to make that happen.
The Hive is Full of Dynamic People
Much More Than Just a Place to Work!
In a world that is moving faster than ever, Coworking office solutions have become the preferred way to get work done. Many professionals don't want the expense or commitment of a building full of private offices.  They may want a smaller space to work from, or a temporary space to take a phone call or plug the computer in.  
At The Hive, we have designed a creative, transitional working environment for anyone who needs a place to plug in to get work done. We offer traditional, private office spaces for professionals who need a permanent office solution; shared spaces for those who simply need a place to sit and work; community spaces for those who need to host a conference or teach a class; and The Wellness Collective for wellness and healing professionals looking to offer their services in a quiet, tranquil, and private atmosphere. 
Join us for an afternoon or the next five years. We always have a great cup of coffee waiting.