Work Spaces
The Hive | A Coworking Space in Cañon City
The Base Camp
NOT CURRENTLY AVAILABLE
Private Office
This Space Can Be Your Base Camp
The Base Camp is a secured space perfect for a professional who needs a comfortable, private, and secure space to get work done. 
It is 72 square feet, comes furnished with lamps, desk, and office chair, and has a large Main Street facing window full of streaming sunlight.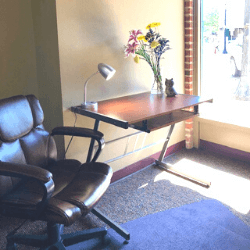 We are offering this space for lease at $400/month.
Contact Us To Discuss Leasing Options.
Security
At The Hive, we prioritize security above everything else. This dedicated, secured workspace can be accessed 24 hours/day using the Isonas keyless entry cell phone app.
Internet
Anyone using The Hive's wifi will be impressed with the password-protected, fiber-optic wifi with 500 mbs up and down. There is not faster, more reliable wifi in Cañon City.
Patron Benefits
We love sharing our coworking spaces with patrons and want them to spend more time with us. The Hive offers eight hours of access to The Hive's Conference and Classroom at no additional cost.  (More time can be purchased at patron prices).
Amenities
At The Hive, we often spend more time outside of our coworking spaces as we do working in them. Patrons enjoy full use of the kitchen facilities: sink, refrigerator, microwave, coffee and tea makers, and a large table to sit and enjoy your lunch. Patrons also benefit from free designated parking in the lot behind the building. The Hive provides mail service, unlimited use of the copier and scanner and paid utilities. Finally, we serve really good coffee and tea throughout the day.
Promotion
The Hive actively promotes patron businesses on our social media and website. We want to help your customers find you.
By making any private space at The Hive your professional home, you have done more than find a place to do your work and secure your equipment.  Patrons who work at The Hive become a part of an active, thriving community who work to support one another in professional endeavors.  The Hive is not a building that provides office space to those who need it.  It is a Hive, the center of a thriving community of business professionals who call this place home. Come into The Hive any time to explore our spaces, plug in your computer, and have a cup of coffee.
The Hive is Full of Dynamic People
Much More Than Just a Place to Work!
In a world that is moving faster than ever, Coworking office solutions have become the preferred way to get work done. Many professionals don't want the expense or commitment of a building full of private offices.  They may want a smaller space to work from, or a temporary space to take a phone call or plug the computer in.  
At The Hive, we have designed a creative, transitional working environment for anyone who needs a place to plug in to get work done. We offer traditional, private office spaces for professionals who need a permanent office solution; shared spaces for those who simply need a place to sit and work; community spaces for those who need to host a conference or teach a class; and The Wellness Collective for wellness and healing professionals looking to offer their services in a quiet, tranquil, and private atmosphere. 
Join us for an afternoon or the next five years. We always have a great cup of coffee waiting.