Learn From Us
The Hive | A Coworking Space in Cañon City
The Hive Presents C Squared Ciders
Apples Are Back in Fremont County
2021-10-10 | The Hive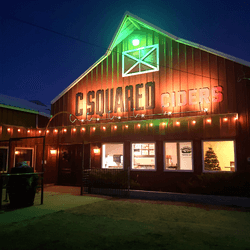 In 1862, William Lee planted the first apple orchard in Colorado but lost his twenty trees to a flood in the same year. In 1867, Jesse Frazer planted an orchard in Florence and kept his trees alive. He was the first man to successfully grow apple trees in Colorado.
Throughout the 1800 and early 1900s, Colorado was a national apple-growing leader. A Cañon City Daily Record article dated April 14, 1905, tells of the Fruit Growers Association delivering five boxes of Fremont County apples to President Teddy Roosevelt while he camped in Colorado.
But, Fremont County would not maintain its hold on the apple-growing industry. In the 1930s, drought, Eastern orchard owners who didn't understand irrigation, a bothersome moth, and the development of the Red Delicious apple in Washington State changed Colorado's orchard business permanently. 
Fremont County forgot the apple.
The Apple's Return to Fremont County
Charles "Andy" Brown has come to Penrose to bring apples back to Fremont County with the ciders he's making at C Squared Ciders.
Brown spent fifteen years brewing beer and making wine before swapping hops and grapes for apples. As a brewer, he worked with some of the larger breweries and wineries across the state, learning to coax alcohol from fruits and grains. When he had learned what he could, he decided to start his own business and control his destiny.
"There were so many breweries opening in Denver, so I didn't think it was a good time to open a brewery of my own. I saw how craft cider was becoming a thing, and I decided to make that switch. So now I say I'm a cider maker."
C Squared Ciders Is Born
The result of his beer-to-cider shift was C Squared Ciders, a Denver-based cidery in the city's hip RiNo district. Here, on a five-acre lot nestled among art galleries, restaurants, and bars,  Brown and his partner, Chad Hatlestad, opened their business and began pressing and selling craft cider.
A 300% property tax increase accumulated over 4 ½ years forced the partners to reconsider the feasibility of their Denver cidery. Brown wanted to keep making cider, so he began to look for a more reasonable property. His internet search for "orchard property" led him to Penrose and a site perfect for growing apples. 
A drive to Penrose and some research convinced Brown that he had found C Squared Cider's new home. The growing conditions, lower property costs, and a historical tie to orchards cemented for him the fact that Fremont County was well-matched to his plans.
Cider's New Penrose Home
Brown and Hadlestad moved C Squared Ciders to Penrose just as Covid hit and shut everything down. Cider sales plummeted when local bars and restaurants shuttered their doors at the beginning of the pandemic. The drop in sales allowed Brown time to plant trees in the orchard and spend more time developing relationships with local farmers and growers.
 

"There was a time when Penrose was full of apple orchards, and I'm so excited to be bringing them back."

Andy Brown, Owner C Squared Ciders
"When business was so slow, I spent my time getting to know people who own orchards in Cañon City, Florence, and Penrose. I would go around asking them for apples and meeting people who have older trees. I would go picking them with them, and they would teach me about growing. I was glad for the opportunity to make those local connections that I wanted by moving here."
Brown's ultimate goal is to grow and harvest the apples he needs to produce C Squared Estate cider, but it will take 3-5 years for the trees he's planted to produce enough fruit. In the meantime, he has been working closely with other regional growers to learn more about productive farming and acquire the apples he needs to press cider.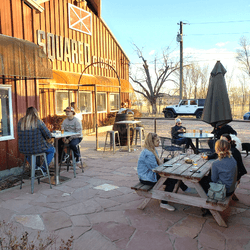 A New Place to Gather
Brown's vision involves more than merely pressing and selling cider. He sees the Cidery as an experience and a destination. "I want people to come into the tasting room and sit on the patio. They can enjoy the orchard and pick apples. C Squared Ciders will host events like weddings, reunions, and other parties. I want it to be a place where people make plans and stop by."
"There is a really cool history of growing fruit in Fremont County that we can all celebrate and get behind. We are excited to share this history with everyone."
See More Articles
---